HEAD COACH - Sarah Revis
Sarah Revis once again takes the role of Head Coach this season and is excited to welcome new members, returning riders and their mounts.

Sarah has been involved with ponies since the age of four but didn't get a chance to join Pony Club until she moved to New Zealand from the UK as a 14 year old. Her first pony was a New Zealand bush pony called Jack, who she evented up to 95cm. She was a member of the Wainui Pony Club for many seasons and represented the area in dressage, show jumping and eventing.

Coaching since the age of 18, Sarah now runs her own business called Revis Equine and is a full-time rider and certified coach based in Waitoki. Sarah currently has two of her own horses in work, Triple Star Puzzled by Time and Royal Blue. When she isn't coaching riders or training horses for others, she enjoys elementary level dressage, eventing and showjumping to 1.2m. In 2019 Sarah won pinto saddle hunter of the year on board Triple Star Puzzled by Time.

Sarah loves working with riders of all ages, and gains enormous satisfaction from seeing riders enjoying their ponies, having fun and working hard to achieve their goals. Horses are a full time job for Sarah these days so there is little time for anything else. But we are sure she wouldn't have it any other way!





COACH / RALLY CO-ORDINATOR - Rebecca Buckley


Rebecca Buckley is a coach and the rally co-ordinator. A local rider for many years, Rebecca started riding at the age of 11 and first attended Chelsea Pony Club based in Beach Haven. She remembers riding her first pony Yasmin, events held at Rosedale, Greenhithe and Albany Pony Club and like many others, her family didn't own a float then.

When she was 13, her family moved to Dairy Flat where she attended Dairy Flat Pony Club and was one of the founding members of the North Harbour District. She enjoyed many years competing in the Neville Trophy and representing North Harbour at Timberlands and Cambridge Show Jumping.

Rebecca started instructing at the age of 16 and attended her first instructors course run by Kay Hogan back in 1991. From there she completed coaching courses up to C+ & B and has enjoyed judging at Dressage, Ribbon Days and D / C certificate exams. Rebecca loves coaching and gets great satisfaction from seeing her riders push themselves beyond their comfort zones and achieve more than they ever thought possible. Rebecca still loves hunting and eventing, these days on her lovely gelding Sam.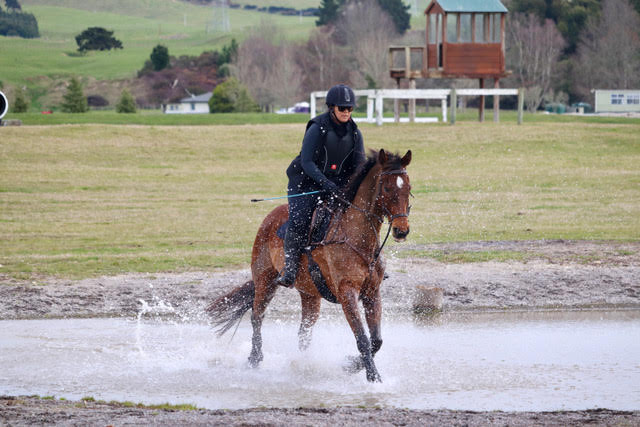 Sarah Fallas moved to New Zealand when she was 8 years old. Her first mount was a loan pony called Snowy. Her early years were spent at Dairy Flat Pony Club, where the lovely Snowy did her best to buck her off! By the time she got her own pony called Rose & Thistle, she had a great riding foundation and represented Waitemata at the Inca Cup games at the Auckland Royal Easter show. Sarah continued to compete throughout her teens and competed at 2 and 3 star horse trials when she took over Mum's Andalusian mare Zinny.
Sarah is currently working with her new young horse Cavalier and will be competing at horse trials with him. There is a new foal on the way by Centavos so she has lots to keep her very busy.

With many years of coaching under her belt, Sarah loves seeing happy horses and riders achieving their goals. Her personal favourite is seeing frustrations and nerves replaced by smiles. Sarah is a designer and capable builder. Her creativity and skills are responsible for some of the cool jumps on our cross country course and annual derby day.



COACH - Ben Weir
Ben competes in both showjumping and dressage with a big team of horses. Some of his horses to look out for this season are Lanice Van de heffinck, Amorcito, Cil Dara Boneparte, these are the older horses of the team. Not to be outdone by the more mature members are the exciting babies of the team Celestial, Cooper PSH, Amarillo PSH, Kanyon T and "our golden boy" who will be using this season to gain valuable experience.

And we cannot forget NPE Del Rico who Ben hopes to start in the Medium Tour this season. As you have most likely gathered riding is Ben's full time job. And without the support of his trainers and owners this lifestyle would not be possible. However it's not quite as glamorous as it seems, as you can often find Ben riding up to 13 horses in the middle of winter in the dark… you've got to love it! Ben came from a non horsey background and started riding when he was 10 years old when he got his first horse - a little stationbred gelding. Ben's memories from pony club was that it was great fun and he credits it to helping build up such a strong passion for the sport - because he simply enjoyed it. In Ben's rally groups this season he is focussed on creating a fun learning environment for the riders. And looks forward to meeting you all this season.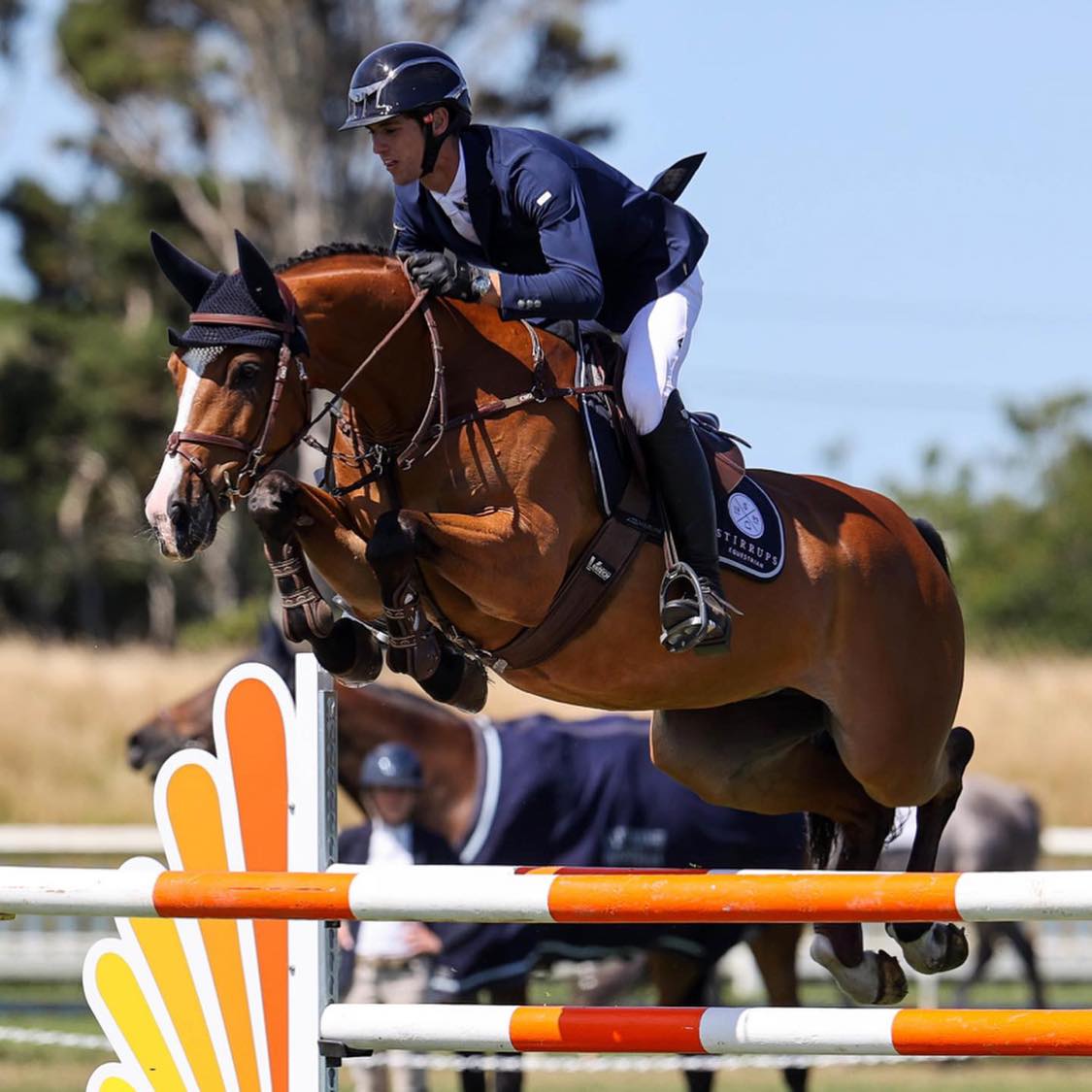 COACH - Simone
Simone has been around horses since she was a toddler as her grandmother had horses one was a little pony named Tinkerbell. She was the first pony Simone ever rode. However Simone started riding regularly at a riding club in Langholm when she was 11 and then after 2 years of lessons and leasing a cheeky Kaimanawa pony, she finally got her own pony a 14.2hh northland bred pinto named Conrad. Simone and Conrad went to local ribbon days and progressed to pre training ODEs , showjumping and showhunter up to 1m.
Moving onto hacks at 15 and finding her passion for showjumping Simone competed to 1.10m on her grey thoroughbred. She has produced a handful of thoroughbred since then and as an adult Simone has produced her horse MJK San Remo from 80cm to now competing Amateur Show jumping 1.10-1.20m, she also competes him in A & P shows, and a couple of eventing shows.
Simone now has a second horse Donnie a young thoroughbred who she is also producing as a showjumper. Simone worked closely along side her coach, who helped her move into coaching, and she has taught at a riding club, lead rein groups and she has also taught our adult group for 3 seasons.
Simone continues to have lessons with Sarah Revis.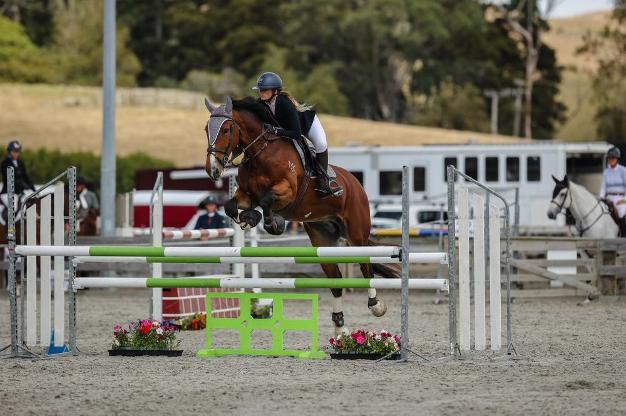 COACH - Sam Leuthard
Sam has been a long standing member of Silverdale Pony Club and we love having her back to coach. She started riding when she was 8 years old on a young dun mare called Mouse who had formerly been part of a herd in Northland. Despite being so young and being blind in one eye, Mouse was a super little pony and gave Sam endless good times and memories.

Over the years, Sam represented North Harbour at show jumping, a discipline she tries to stay involved in. Outside of work, Sam is also very involved in hockey. She has somehow ended up with three horses at home so she is very active!

Sam loves the environment that pony club provides for riders. She remembers her Silverdale years fondly, especially the camps and night time trails through the bush. She has stayed involved as an adult rider and this led onto coaching. Seeing improvement and the smiles on riders faces when they beat their friends are a few of the many reasons Sam continues to coach.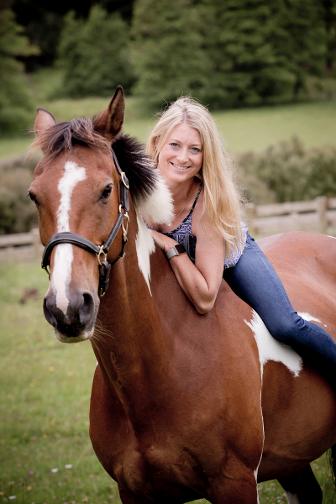 COACH - Heidi McAlpine



Heidi McAlpine is a long time pony club member who has enjoyed many fun rallies at Silverdale Pony Club over the years. She has competed in dressage, show jumping and eventing teams for the area and most recently has taken on the ride of Regal Xavier.


Xavier is a level 7 dressage horse who Heidi will be competing at level 4/5 dressage this season. Heidi is a working student with grand prix dressage rider Nicky Daulton and is gaining invaluable experience with younger horses and yard management. Xavier is a far cry from her first, extremely green pony called Fez, who could be described as 'a bit of a challenge!'. Not one to shy away from hard work, Heidi won the Under 25 Level one newcomers championship on a self made pony. She loves the community of support that Pony Club offers and gains immense satisfaction seeing the bond and connection between a rider and their horse develop.

Outside of riding, Heidi loves the beach and can also be spotted out on a surfboard during the summer months.



COACH - Bianca de Ruiter
Bianca rode at Greenhithe pony club for eight years. Her first horse was a cute flea-bitten grey called Jazz. Bianca has so many great pony club memories but her most memorable riding experience would be when her team came 1st overall representing Waitemata in show hunter. She also represented Waitemata District in dressage and competed in pony club eventing over the years.
Bianca is currently producing a seven year old gelding named Beckham, who she hopes to get out competing this season. Bianca loves show jumping and has competed up to level 3 dressage. Bianca has grown to love coaching and loves helping the kids to advance further in their riding, getting them more confident, and helping them achieve their goals.
Bianca is loving the welcoming vibe and shared knowledge of Silverdale Pony Club. Outside of horses Bianca is in her final year of university studying physiotherapy. She also enjoys travelling around New Zealand and discovering the amazing beaches!